I've pulled together many things relating to anxiety and made them available here for everyone.  Please feel free to share so that it might help others too.  For further reading, click here for a previous article of mine which explains more about anxiety and panic attacks.
The first thing that I want to make quite clear is that there is a place for medication for anxiety and your first port of call should always be your doctor, but in many cases it's possible to keep your anxiety under control without reverting to drugs.
To understand your anxiety you often need to go way back and discover where it originates from; but it rarely has just one single source.  It's usually a culmination of events that lead to someone becoming overly anxious.
In my case, my anxiety stemmed from a loss of control, of not being listened, of not being taken seriously and of being dismissed.  I can clearly remember my first panic attack that culminated with me being taken to A&E and  the subsequent years when I didn't understand what was happening to me, despite numerous visits to my doctor.
It took a lot of self reflection and some counselling to help me to understand how my body was physically reacting to something that was in my mind and to something that originated a long way back in my past.  It had been brought back into the present after I had got married and it was manifesting itself as anxiety. I was worrying about something that may or may never happen in the future but my fears were real and grounded in reality.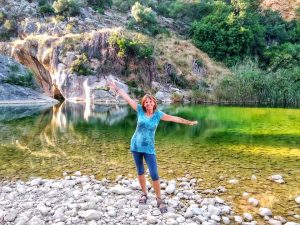 I learnt coping techniques which in the early days were actually more of avoidance techniques and rather more recently I have learnt how to identify the warning signs and triggers so that I'm usually able to deflect and deal with an attack before it takes over.
Interestingly but not unsurprisingly, my underlying anxiety has reduced in direct correlation to my understanding and growth of my own self belief.
I usually have several clients at any one time that I'm coaching through their anxiety and panic so if you would like some extra help, reach out to me.  We can have a chat and you can learn how to help yourself to move on from this debilitating condition.
Turn your phobia into an obsession.
This is why a 'fear of flying' course works.  Once you understand the mechanics of almost anything it can lose its power over you.  Say for example you have a fear of spiders: well if you turn them an obsession and learn everything possible about them, look at pictures and study live ones, learn how to control your physical and emotional reactions to them, then you can often regain control and they stop becoming triggers.
When I feel my usual panic attack feelings beginning to well up I'm now better able to deal with them.  I treat them as a lesson, as something to be studied, as a chance to understand what the trigger was and what it was rooted in.  Often, for me, this is enough to stop the panic attack from developing.  It's as if with increased knowledge and awareness my mind becomes calmer and more rational, like understanding that the spider is harmless and appreciating that it's doing good by eating flies or knowing that the science of aerodynamics ensures that the wings won't break off the plane during turbulence.
Taking time to think rationally about why I'm about to go into panic mode is the first thing that I do and now, because I'm so aware of how my past experiences impact upon my present, that is often all that I need to do in order to make it all go away.
The 5 senses technique is a very useful grounding exercise to use when you feel that you're beginning to be overwhelmed
You should focus on:
5 things you can see,
4 that you can touch,
3 that you can hear,
2 that you can smell and
1 thing that you can taste.
Pin the following image so that you can remember and refer to it in the future and read more here.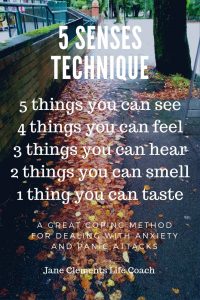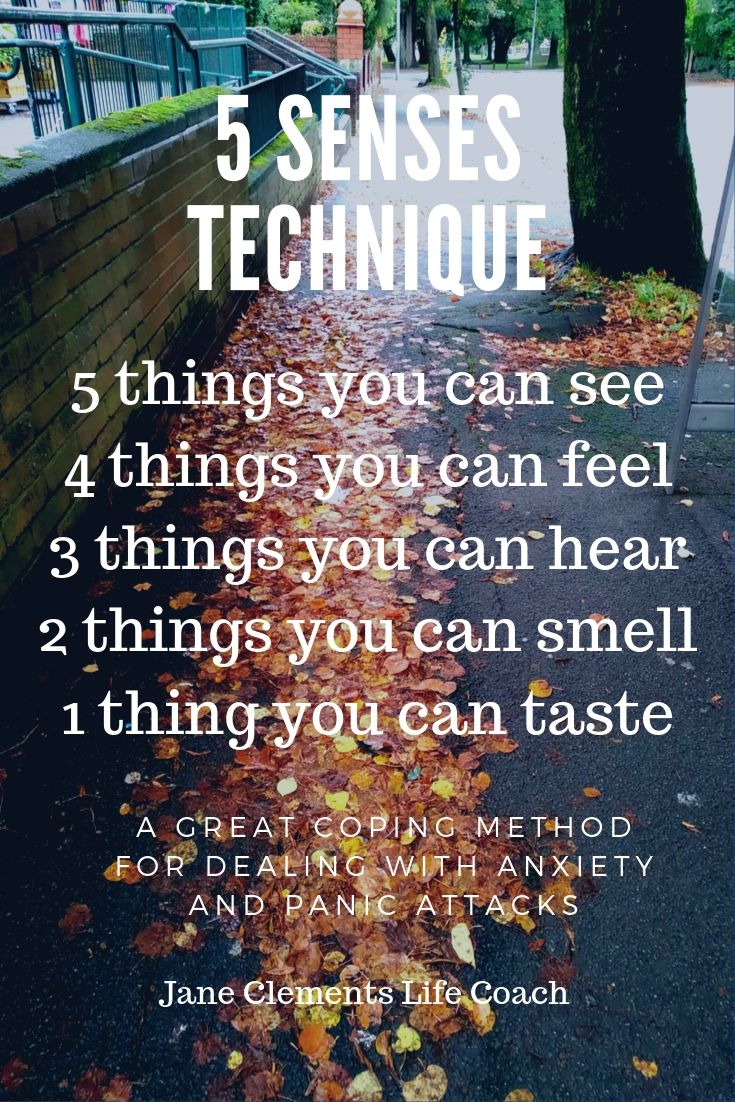 Paper bag:  A quick and easy way to stop the pins and needles and light-headedness that often accompany an anxiety attack is to breathe slowly and steadily into a paper bag.  This balances out the gases in your lungs and your bloodstream and sends a message to your brain that it can stop preparing to send you into flight or fight mode. Combine this with some of the other envisioning methods to calm yourself right down.
My personal grounding routine
Build your own grounding routine that you can focus on and use when you feel an attack building.  If you want to know what my personal routine is click here.
I have got my own routine down to a fine art and it works 98% of the time for me.
Be thankful for what you have rather than dissatisfied with what you don't have. 
Learning how to be mindful can bring calm into all parts of your life.  It can put things into perspective and it can shift your focus.  Mindfulness has been a massive turning point for me in all aspects of my life.  I am calmer, less prone to anger or upset, I can deal far better with any crisis and I'm more appreciative of everything that surrounds me on a daily basis.
Often anxiety is based on a fear of what might happen in the future but when we learn to live in the moment those fears have less power over us.
I learnt during my Vipassana meditation retreat that craving and aversion are two of the big elements that we need to stop allowing to influence us.  Once we have learnt how to meditate and once we can accept that what is happening is happening and that everything will surely pass, our perspective will change and we will become calmer. 
Yes, we all have choices and yes, we all need to dream and set ourselves goals but these are very different things to dwelling negatively on what we don't have or wishing that things could be different.
Educate yourself and learn what triggers you and why.  If you want to go deeper and discover your own triggers, contact me for a stepping-back-in time exercise and find out why you are triggered.  It might surprise you that the root cause isn't quite what you've always thought it to be. Mine certainly surprised me.
(It's not always possible to discover the root cause of your anxiety within one session but during our free discovery session we will certainly find out how complex it is likely to be.)
The Micro/Macro exercise: 
Focus for a minimum of three minutes on an object that is close to you.  You should actually time yourself.  It can be whatever you have to hand but stay there for three minutes and don't allow any other thoughts to enter your mind.  Once you have done this, focus on something far away in the distance for three minutes.  If you're inside, get to a window and look out at the horizon or the street below but if it's totally impossible to get to a window you can actually do this by looking at an image of a landscape on your phone or your computer.  
Then, using the same techniques, focus really closely on whatever is causing you anxiety at the moment and then 'pull back' your view and try to see things from further away, looking back at yourself as if from a satellite view.
This exercise can give you a whole different perspective on what's bothering you and by reframing it in a different context it can lose its power over you.
Reduce drugs and stimulants
While it can be very tempting to reach for the booze in order to dampen your feelings down, it's generally counter-productive in the long run.  Coffee, fizzy drinks and alcohol all change the way that your mind perceives things so if you're serious about reducing your anxiety try to reduce these stimulants; or at least cut them out for a trial period.
Visualize yourself being in a safe place
Think about where you have always felt safe, supported and happy and take yourself back there.  Even better, if you can find something simple and physical to link to this place you can train your mind to automatically make the connection when you touch, see or taste whatever you are going to focus on. 
For me, a hot cup of tea is key, and even while I'm getting extremely anxious or almost lost in an overwhelming panic attack, I do my best to fix myself a cup of tea.  Knowing that I'm doing something that's proactively going to calm me down really helps and I've got so good at making the connection to my safe place that I don't even have to think about the actual link – the act of making and sipping the tea is often enough.
Resources to help with anxiety
Below you will find some links and some further reading that you might find useful, but like anything in life one size never fits all.  If you do have problems it's always best to seek professional help.
Sometimes all that's needed is someone who will listen to you with an open mind and without judgment although at other times you might need medical intervention and medication.  A coach or a counselor who is trained in drawing out the strengths that lie inside you and who can help you to move on can be invaluable.
I should stress that you don't need to go delving into your past to find out the cause.  It can be enough to learn which calming techniques work best for you but I'm sure that as you begin to understand the fascination connection between your mind and mindfulness and your physical reactions you'll want to learn more.